FNB  Bank's Mobile Deposit services are designed to allow you to make deposits to your checking, savings, or money market savings accounts from home or other remote locations by capturing the image of a check and delivering the images and associated deposit information to FNB Bank or our designated processor.
Follow these easy steps to deposit checks anywhere, anytime:
Log in to our app on your mobile device and select Mobile Deposit.
Follow the on-screen enrollment steps.
After enrollment is approved, select Deposit Check.
Select the account to deposit to and enter the check amount.
Properly endorse the check with "For FNB Bank Mobile Deposit Only", the account owner's signature, and your FNB Bank account number.
Take a picture through the app of both the front and back of the check.

Ensure the images include all 4 corners of the check, are taken on a dark, solid, flat background, are not blurry and do not have shadows. 

Review the deposit information entered and Submit.
You will get a notification that the deposit has been received and will be reviewed.
You will get a final notification that the deposit is accepted or rejected.
Items that can be deposited
Checks made payable to the account owner(s) that have been properly endorsed.

Items that cannot be deposited including, but not limited to:
Foreign Checks
Bonds
Checks payable to a person NOT on account being deposited to
3rd party checks
Returned or re-deposited items
Rebate checks
Tips for taking a successful picture:
Take the picture on a solid, dark, not-reflective contrasting background.
Photos should not be taken in laps or on hands and the check should be smooth as possible. 
Photos should always be taken with a clean camera with good overhead lighting with no shadows and the camera should not be zoomed in.
Remove the paystubs before submitting the check for deposit
After making a deposit
DO NOT re-present the item. Keep the check for at least 30 calendar days from the date of deposit.
Note: Same day processing cutoff time for submitting deposits is 3:00 p.m. Mountain Time (M-F), excluding Federal holidays.
Message and data rates may apply. Please check with your communications service provider for access rates, texting charges, and other applicable fees.

Please contact FNB Bank with any questions at 1-800-899-7977.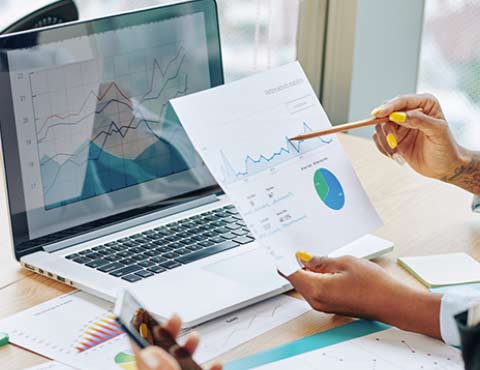 Your business, as unique as you are
Banking power without a lot of cost.
That's why we take the time to truly understand every aspect of your business - including the dreams and aspirations that drive it.